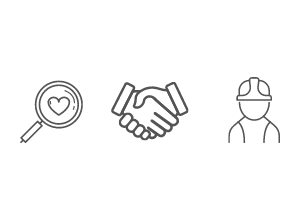 – Superb customer service
– Exceptional attention to detail
–
Outstanding  workmanship

EXPERIENCE
We are a residential and commercial building company, operating since 1994.
Our tried and tested full service building practice is structured to give you peace of mind at every stage of the building process.
This includes feasibility studies, architectural design, planning, permits, building, construction methods and landscaping, right through to hand over.
SERVICE
Edgebuild's client friendly building process allows us to keep you informed and the project on track.
The decision to build a new home, or to renovate an existing home, is probably one of the most important decisions you will ever make.
FLEXIBILITY
Your choice of Builder is paramount in the successful construction and completion of your new home.
Your Builder needs to understand that what they are constructing is indeed a "Home".  Your Builder's commitment to the project needs to be equal to your own and will always strive to exceed your expectations.
A Builder who is flexible, able to accommodate the evolution of a project and always available to answer your question.
TIME
Edge Build has the team and experience to deliver your project, importantly on time and on budget.